Springs! If you're not going mega low and your original shocks are in good nick then spring only kits can be used. They are available in many different ride-heights ranging from 20-60mm drops. Don't forget, that if you go for something like a 60mm drop, the ride will suffer, as they will be set harder than standard springs. However, you'll feel like your driving a go kart when you're taking corners. My Chassis Dynamics ones (which are the same as Ecosse springs), were £45 for 2 Pug GTi 60mm springs. Not bad at all!
<![if !supportEmptyParas]> <![endif]>
<![if !vml]>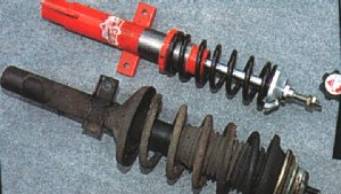 <![endif]>
<![if !supportEmptyParas]> <![endif]>
Shocks! Many manufacturers produce uprated standard length and shorter shock absorbers for use with very low springs. Many are available with adjustable damping which enables you to alter the stiffness as and when you need to. Adjustable damping comes in handy when big rims are used and are close to the arches. Some cars except double posh coil-overs, which allow you to slam the car and raise the ride height as the spring platform screws up and down the shocks body. Tailor made kits with matched shocks and springs cost from about £270 for the Spax kits raising to £400-500 for a lovely set of Koni.
<![if !supportEmptyParas]> <![endif]>
<![if !vml]>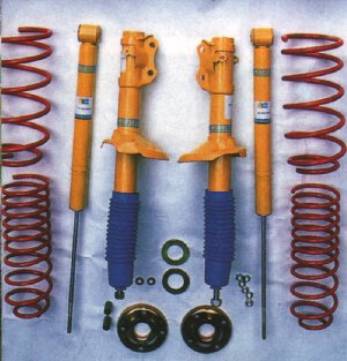 <![endif]>
<![if !supportEmptyParas]> <![endif]>
<![if !vml]>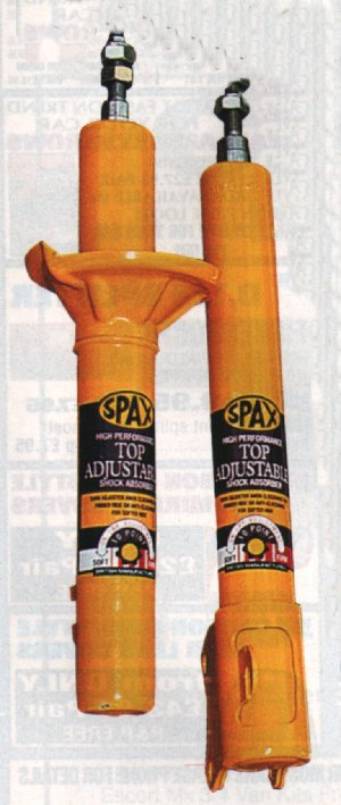 <![endif]>
Torsion Bars! Torsion bars are a very old technology but plenty of froggy cars use them to good effect. This type of suspension twists a straight bar to produce the spring effect. This system is obviously only used on the rear of the car. Lowering is done by removing the bars (one on each side), lifting the suspension slightly and then the bar is relocated a spline or two further round. On the 205, one splines drop is nice; two looks awesome but gives a very harsh ride. Also, you better make sure that your rear bump stops are in good nick as the rear suspension arms will probably hit them over large bumps.
<![if !supportEmptyParas]> <![endif]>
SUSPENSION EXPERTS
<![if !supportEmptyParas]> <![endif]>
ADT: EURODYNAMICS - 0171 228 8565
AVO - 01933 270504
BILSTEIN - 0181 9565049
DE-CARBON - AVO 10933 270504
EIBACH - 01455 285850
G+M/ELITE - 01708 526526
H+R MOTORSPORT WHEELS - 0181 7789730
JAMEX - 0181 901 2900
JR - 01932 788805
KONI - 01252 543900
LEDA - 01376 326531
MONROE /DEMON TWEEKS - 01978 664466
POLY SPORT - 01795 531871
POWEREFLEX - 01895 460003
SACHS BOGE - 01788 822855
SPAX - 01869 244771
SUPERFLEX - 01753 662905
TERRA - 0181 9565049
WEITECH/C+R - 0115 9785740
Anti-Roll Bars! These devices help keep the car level while cornering. There are usually two steel bars, one front and one rear, which connects the left and right suspension together. When a wheel's pushed up into the arch during cornering, the bar pushes the opposite wheel up too, thus keeping the car more level. Most cars have anti-roll bars as standard but firms like Eibach supply uprated aftermarket jobbies, which are thicker than standard.
<![if !supportEmptyParas]> <![endif]>
Bushes? Most car manufactures use robber type mounting bushes for its comfort and quietness. However, these tend to wear out especially on modded chariots. This is were polyurethane bushes come in. They differ because they are stiffer and come in lovely colours. There rigidity enhances the steering response and also the handling.
<![if !supportEmptyParas]> <![endif]>
Strut Braces! These are made of steel or alloy (the former being mush cheaper as it's heavier). They are mounted between the front and rear shock tops. They add rigidity through the car and increase handling. They also look the business in under the bonnet as well. (especially polished silver).
<![if !supportEmptyParas]> <![endif]>