<![if !vml]>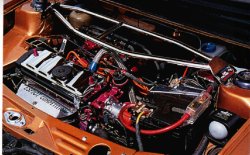 <![endif]><![if !vml]>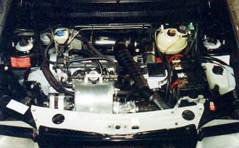 <![endif]>
I want power! 1.6's, 1.9, 16v's, carbs… what more could you want? Well, with the 1.6Gti, you can start with the usual induction kit, exhaust system, chip, gas flowed head and uprated cam for a 20-25bhp increase on top of the original 105/115bhp. The whole lot will cost over £1200. If this doesn't suit, use the £1200 and transplant a 1.9 instead, which gives 130bhp from the start and is more tuneable.
If you start with a 1.9, then the same mods apply. This should give 160bhp. The most popular option though, is the legendary Mi16 conversion. Pay anything upto £3000 and have 155bhp standard with anything upto 200bhp available with conventional tuning… polished/ported head, cams, twin Weber 45's, custom exhaust manifold. If you get bored with that, a set of Throttle Bodies will take you to around 210bhp but with a price tag of £2500, there a bit expensive.
After that, if you still crave more power, it's turbo or supercharger time. You'll be looking at £4000-6000 pounds but you'll be looking at 240bhp+ with a turboed Gti-6 engine (£10,000 though!). As a last resort, you can always transplant the Cosworth engine in and get 500bhp…niceeeeeeeee! But will cost about £20000. Oh well, who need a house anyway?
Engine Contacts:
Pug Performance Motorsport – 01420 587377,  (HIGHLY RECOMMENDED / VERY COMPETETIVE)
Coventry Peugeot Specialists – 024 7654 5995,  N/A
Peugeot Ecosse – 01506 516106,   (VERY EXPENSIVE / HAD SOME BAD REPORTS)
Pugeotek – 01159 497045,   N/A
Shenpar Racing/Competition – 01332 862901 (RALLY SPECIALISTS)
Viper Motorsport – 01703 452622    (NOT SURE IF THEY STILL EXIST?)